Jim Harrison, The Art of Fiction No. 104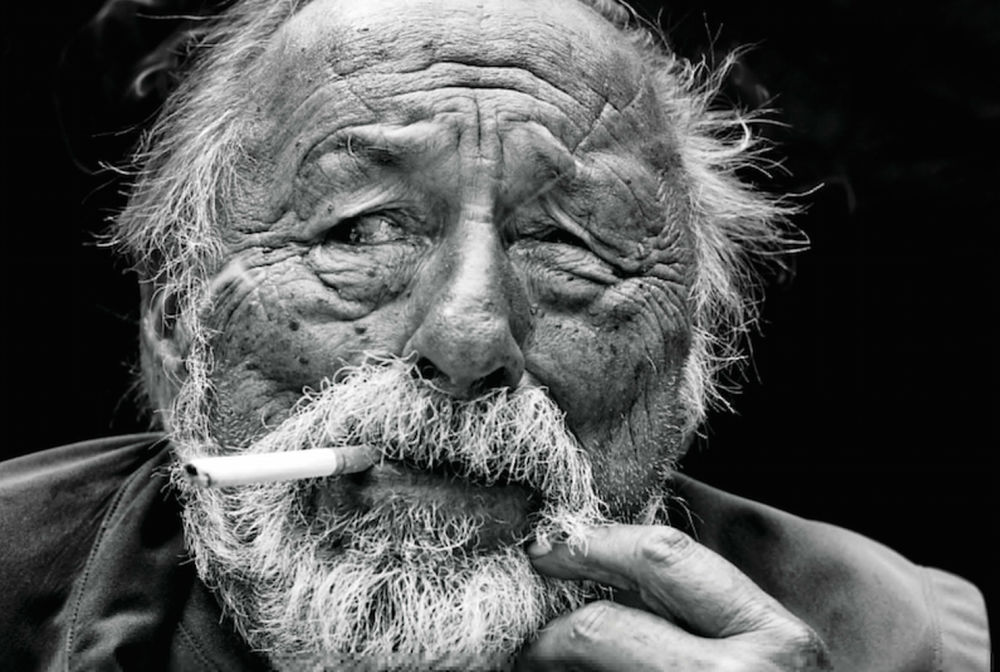 Photo by Andy Anderson
This interview was conducted over a five-day period in mid-October of 1986 at Jim Harrison's farm in Leelanau County, Michigan. It was the middle of the bird-hunting season, and his friends, painter Russell Chatham and writer Guy de la Valdene, were staying with the Harrisons, as they have every fall for the past thirteen years. Harrison chose this particular time for the interview because it was essentially his only free time of the year, and because, as he put it, it is a time when he "tends to be intensely voluble and cheerful." Both Harrison and his wife of twenty-seven years, Linda, are accomplished cooks, as are Chatham and de la Valdene, and this is also, it must be said, a fattening time. An enormous portion of each day is devoted to planning, shopping for, preparing, discussing, and finally eating one breathtaking meal after another, at the end of which preliminary discussions and preparations for the next meal begin almost immediately.
A threatening sign outside—DO NOT ENTER THIS DRIVEWAY UNLESS YOU HAVE CALLED FIRST. THIS MEANS YOU—is belied by the inside of the farmhouse, a hospitable home with bookcases lining the walls, dogs and cats comfortably reclined on the furniture. I arrived in the evening, just in time to participate in a dinner party for twelve, so there was even more activity in the kitchen—the soul of the house—than usual; a lot of tasting from saucepans by guests and chefs alike, a certain amount of pilferage off the butcher block countertops by the pets, and much good-natured squabbling, giving of orders, and unsolicited cooking advice, mostly ignored. There is a brief uproar when Harrison discovers that someone has tampered with his game sauce; he demands to know who and why. For dinner we are being served an appetizer of woodcock, with grouse as an entree, as well as sundry side dishes, including marvelous garlic mashed potatoes, for which Linda has poached thirty cloves of garlic in butter.
Jim Harrison is a dark-skinned, robust man, with a Pancho Villa–style moustache—oddly Latin in appearance, although he is of Scandinavian heritage. He's been described as looking like a block layer (which he indeed was), a beer salesman, and a sumo wrestler; he bears himself with a most unique kind of physical grace, indescribable except to say that it has something to do with a style of movement that is not precisely linear. His eye—blinded in a childhood accident—is sighted off on a different plane, increasing the feeling that Harrison is a man with his own unique sense of balance.
Harrison is the author of seven books of fiction, including the novels Dalva (1988), Sundog (1984), and Wolf (1971), and the collection of novellas Legends of the Fall (1979); but he began writing as a poet, and has published six collections of poetry, most recently The Theory and Practice of Rivers and Other Poems (1986).
Because he prefers to be on the move, out of a total of almost fifteen hours of taped conversation only about two hours' worth was conducted in any kind of a formal interview fashion—seated in Harrison's office, a converted granary near the house, or at my room in a nearby lodge on Lake Michigan, a room in which he had written much of Legends of the Fall. The rest was conducted informally, in conversation with the tape recorder running while touring the northern Michigan countryside in his car, or walking through the woods and fields with his bird dogs. Sometimes he carried a shotgun, although considerably more talking was done than hunting.
Conversing with the poet-novelist is somehow akin to watching his dogs work the cover for birds. They race off on tangents, describing broad loops and arcs, or tight circles, always returning in a controlled, if circuitous, pattern that is at once instinct, training, ritual, and play.
Harrison is a man of prodigious memory and free-wheeling brilliance and erudition, as well as great spirit and generosity, lightness and humor; so the reader should imagine wild giggles and laughter throughout, and supply them even when they seem inappropriate—especially when they seem inappropriate. Imagine, too, the sounds and the textures in the background of the tapes: the easy talk of friends and hunting cronies; the light, cold drizzle of the wettest fall in Michigan history; sodden leaves and branches underfoot; and always the ringing of the dogs' bells, sometimes nearby, sometimes barely discernible, fading into the woods.
A final editing of this interview was accomplished over a two-day period at his publisher's house in Key West, Florida, where Harrison, with his family, was taking a much-needed ten-day break from work on his novel Dalva.
JIM HARRISON
I wrote this in my notebook: "My favorite moment in life is when I give my dog a fresh bone." That comes from being the blinded seven year old hiding out in the shrubbery with his dog, whom he recognized as his true friend.
INTERVIEWER
Do you think your childhood accident when you lost sight in one eye gave you a different way of looking at things?
HARRISON
Probably. I understand they believe that in other cultures, especially when it's the left eye.
INTERVIEWER
You seem to have a remarkable memory for the events of your childhood, which you use a lot in your work.
HARRISON
It's nondiscriminate and that's why you have to work hard at it. In terms of classic Freudianism, if you have a knot in your past that stops the flow of your life, it's a psychic impediment. Your memories enlarge in ways proportionally to how willing you are to allow them to enlarge.
INTERVIEWER
Do you believe that a good memory is an essential attribute for a writer because it gives one a deeper well to draw from?
HARRISON
Sometimes I wish I could forget more things. I have to make a conscious effort to free my mind, open it again, because memory can be tremendously rapacious. Was it to you that I said jokingly that I had to go out and collect some new memories, I'm going dry? That's why I like movement.
INTERVIEWER
This idea of movement and the metaphor of the river, seem to be central to your work.
HARRISON
It's the origin of the thinking behind The Theory and Practice of Rivers. In a life properly lived, you're a river. You touch things lightly or deeply; you move along because life herself moves, and you can't stop it; you can't figure out a banal game plan applicable to all situations; you just have to go with the "beingness" of life, as Rilke would have it. In Sundog, Strang says a dam doesn't stop a river, it just controls the flow. Technically speaking, you can't stop one at all.
INTERVIEWER
But you have to work at it, make a conscious effort so that your life flows like a river?
HARRISON
Antaeus magazine wanted me to write a piece for their issue about nature. I told them I couldn't write about nature but that I'd write them a little piece about getting lost and all the profoundly good aspects of being lost—the immense fresh feeling of really being lost. I said there that my definition of magic in the human personality, in fiction and in poetry, is the ultimate level of attentiveness. Nearly everyone goes through life with the same potential perceptions and baggage, whether it's marriage, children, education, or unhappy childhoods, whatever; and when I say attentiveness I don't mean just to reality, but to what's exponentially possible in reality. I don't think, for instance, that Márquez is pushing it in One Hundred Years of Solitude—that was simply his sense of reality. The critics call this magic realism, but they don't understand the Latin world at all. Just take a trip to Brazil. Go into the jungle and take a look around. This old Chippewa I know—he's about seventy-five years old—said to me, "Did you know that there are people who don't know that every tree is different from every other tree?" This amazed him. Or don't know that a nation has a soul as well as a history, or that the ground has ghosts that stay in one area. All this is true, but why are people incapable of ascribing to the natural world the kind of mystery that they think they are somehow deserving of but have never reached? This attentiveness is your main tool in life, and in fiction, or else you're going to be boring. As Rimbaud said, which I believed very much when I was nineteen and which now I've come back to, for our purposes as artists, everything we are taught is false—everything.
INTERVIEWER
How did you think at age fourteen that you might want to be a poet?
HARRISON
Those years—fourteen, fifteen, sixteen—are a vital time in anybody's life, also a tormenting time. I wanted to be a preacher for a while, but then it seemed to me that whatever intelligence I had wouldn't allow it. That again would be a question of leaving out the evidence. So I think all my religious passions adapted themselves to art as a religion.
INTERVIEWER
Did you always read a lot?
HARRISON
Yes. My father was a prodigious reader and passed on the habit. He was an agriculturist but he also read all of Hemingway and Faulkner and Erskine Caldwell. He read indiscriminately. Both my parents did.
INTERVIEWER
That had to have been valuable training for you.
HARRISON
A large part of writing is a recognition factor, to have read enough to know what good writing is. Finally, what Wallace Stevens said, which I love and which is hard to explain to younger writers, is that technique is the proof of your seriousness.
INTERVIEWER
Did your rural background in any way prepare you to become a poet?
HARRISON
My background used to embarrass me. I'd think, I want to be like Lord Byron, or Vincent van Gogh. And then I'd realize, how can a boy from a little farm town do that?
INTERVIEWER
Didn't that give you more incentive to break out?
HARRISON
And I think more power. I think the years I spent at manual labor as a block layer, a carpenter, a digger of well pits, have given me more physical endurance for later in my life. And in an utterly corny Sherwood Anderson way, it makes you think those long thoughts. If you're unloading fertilizer trucks for a dollar an hour all day long, and dreaming about New York City, it really means something. I remember a month before my first book of poems came out, I was working on a house foundation and the lumber truck couldn't get close enough to the excavation, so I had to wheelbarrow 1,200 cement blocks for about seventy yards, load them and unload them. It was a cold, icy, early November day and it took me about nine hours to do it. That day I manually handled thirty-five tons worth of cement blocks, and that was for two and a half dollars an hour. When I got home I was hungry and tired, and what I had to show for it was right around twenty-five dollars. But you got a lot of thinking done.
INTERVIEWER
Do you think that the physical endurance you developed in those years somehow translates onto the written page?
HARRISON
I've never thought about that. What it does do for you is, if you can hoe corn for fifty cents an hour, day after day, you can learn how to write a novel. You have absorbed the spirit of repetition. When you look at my wife's garden you understand that; the beauty of the garden—the flowers and the vegetables—that's how an artist is in his work. And I think the background that at first nonplussed me—that rural, almost white-trash element—stood me in good stead as an artist, in the great variety of life it forced me into, the hunger to do things. Joseph in Farmer wanting to see the ocean—that's a reflection of my background. I can't tell you the thrill I had when I hitchhiked to California to look at the Pacific. And then the same way with New York City. Our family had no money—there were five children—and I accumulated ninety dollars and my dad gave me a ride out to the highway. I had my favorite books and the typewriter he'd given me for my seventeenth birthday—one of those twenty-buck used typewriters—and my clothes, all in a cardboard box tied with a rope, and I was going off to live in "Green-witch" Village. I was going to be a bohemian! I think I'd seen pictures of bohemians in Life magazine, and that's what I wanted to be. Also the girls looked really pretty. They had straight black hair and they wore turtlenecks. And my dad thought it was all fine. He wasn't insistent about me finishing college at the time. He knew that Hemingway and Faulkner didn't go to college.
INTERVIEWER
What were the books you took with you?
HARRISON
Rimbaud's Illuminations—in that Louise Varese translation—Faulkner's The Sound and the Fury, The King James Bible, Dostoyevsky's Notes from Underground, Joyce's Finnegans Wake.
INTERVIEWER
Having begun your career as a poet, how did you make the transition to fiction?
HARRISON
I fell off a cliff while bird hunting and hurt myself, and I had to be in traction for a month. I had a long convalescence. Fortunately, I had the Guggenheim that year, or we would have been bankrupt. Tom McGuane suggested I write a novel while I was convalescing, and that's how I wrote Wolf. I sent it off and for a month it was lost in the mail strike. It was the only copy. When they accepted it for publication I was somewhat surprised. I thought, Oh good, here's something else I can do, because the dominant forces in my life had always been novelists, along with a few poets.
INTERVIEWER
In its form, Wolf is quite unconventional. It has a very personal, almost confessional quality. Does that reflect your background as a poet?
HARRISON
At the time I hadn't written any fiction other than juvenilia, so naturally Wolf was a poet's book. I even have grave doubts whether it's a novel at all. That's why I called it a false memoir. I certainly came to the novel backwards, because poets practice an overall scrutiny habitually, and what's good later for their novels is that they practice it pointillistically. You read some reasonably good novelists who tell a story well enough in terms of a flat narrative, but they never notice anything interesting, whereas a poet has folded and unfolded his soul somewhat like an old-fashioned laundry girl with the linen. His self is his vocation. As W. C. Williams said, "no ideas but in things."
INTERVIEWER
Wolf is a very angry book.
HARRISON
Wolf reminds me somewhat of a heartbroken boy up on the barn roof, just sort of yelling. I've certainly become a nicer person over the years.
INTERVIEWER
Do you think you've become nicer, or less angry, as a result of age?
HARRISON
I don't think it's a result of age because, if anything, people get angrier as they go along. I think it's the result of a particularly long effort to make myself sane, at least on my own terms. As Ortega y Gasset said, "With no standard nothing has merit and man is capable of using even sublimity to degrade himself." An artist has to evolve some standards, because nobody's asking you to do this, and what you think of as your muse is really a couple dozen violent bacchantes.
INTERVIEWER
Along these lines, Faulkner once said that nothing could ruin a first-rate talent, to which Norman Mailer replied that Faulkner made more asinine remarks than any other major American novelist.
HARRISON
Except for Mailer. I think Faulkner was always defensive and he gave Chinese answers. And that question of the formation and disintegration of personality is such an enormous subject, an imponderable thing. Of course alcohol and drugs, marriage, jobs, everything can ruin talent if allowed to. But these are inscrutables; and finally Mailer is right and Faulkner is right, and the fact remains that Faulkner really ruined his talent later in his life with whiskey. I certainly know when I'm doing so. For instance, the whole first section of this new book I'm working on, Dalva, is written from the voice of a woman, and I can't get into her voice if I've had too much to drink the night before; I can't slip into her persona because it requires a conscious effort every day. The best thing I've ever read on the subject of alcohol and the writer was by Walker Percy, who defined it as a "reentry" problem. The writer works in this totally solitary universe, and to reenter the world he has to have a couple of belts, then a couple of belts on top of a couple of belts. And most people drink for no other reason than that they started drinking. It's essentially a sedative, and if you're a manic depressive in the first place, which is basically my configuration, you sometimes need a lot of sedation. But this is not a profitable question in the long run, because what Faulkner called the raw meat on the floor is whether you do the job or not, and eventually everyone knows if you did the job or not. The fact is, I can only think of one American in our time who's lived up to the full promise of his talent, and that's Saul Bellow. He's the only person who brought his talent to the fruition that seemed promised way back with his first work.
INTERVIEWER
After Wolf, your next novel, A Good Day To Die, took a more traditional form as a narrative. Was that a natural progression from poetry into fiction?
HARRISON
No, I think it was the influence of Raymond Chandler and John D. MacDonald. I wanted to tell one of those simple tales that has a great deal of narrative urgency, propelled by characters who, once you've met them, you know it's going to be a godawful mess. These are people that nobody wants in their living room . . . except maybe Sylvia, in her white cotton underpants.
INTERVIEWER
I can see where some people might find these characters objectionable. That's a disturbing book.
HARRISON
The book came out of the feeling of the late sixties. In a sense it was the first Vietnam book. A critic in New York told me that such people don't exist, and I said, Well, I'm afraid they do, in enormous quantity, as we were to see later.
INTERVIEWER
Do you think the fact that you often write about people who are not exactly "mainstream" type characters has hurt you in terms of critical acceptance?
HARRISON
It's occurred to me that some of the awkwardness I have in reception—not that I can't write badly—is because the kind of people I write about are utterly alien to almost everyone in the reviewing media.
INTERVIEWER
Has it been a problem for you being labeled a "Michigan" or a "Midwestern" writer?
HARRISON
What I hate about this notion of regionalism in literature is that there's no such thing as regional literature. There might be literature with a pronounced regional flavor, but it's either literature on aesthetic grounds or it's not literature. In the view of those on the Eastern Seaboard, everything that is not amorphous, anything that has any peculiarities of geography, is considered regional fiction, whereas if it's from New York, it's evidently supposed to be mainstream. I told my agent, Bob Dattila, years ago that it struck me that the Upper East Side of New York was constitutionally the most provincial place I'd ever been. As far as interests go, it's as circumscribed as say, Fergus Falls, Minnesota, which is a Catholic farm community—it's that specific.
INTERVIEWER
Do you think that it's still more difficult for a writer working in a different part of the country, with the possible exception of the South, to be recognized in New York?
HARRISON
It's only a question of contiguity, population density and literary friendships. Think of all the column inches the Mets got when they weren't very good. The media loathed the World Series between St. Louis and Kansas City. It's the same way with novelists.
INTERVIEWER
You make forays into New York, but you've managed to maintain a certain isolation here at your farm and at your cabin in the Upper Peninsula.
HARRISON
I'm lucky to be rurally oriented because I save myself a lot of problems by being where I am, by being that remote. I'm not overburdened by the regional concerns of New York. I think of Mailer or Vonnegut, and these are brilliant, brilliant people, and somebody's always pushing a microphone in their faces. Writers aren't trained that way. In terms of wisdom, we're usually not much smarter than the modern living page of the daily newspaper, and we can't always come up with something on the spot; so we're often made to sound stupid when forced to react spontaneously in a media situation.
INTERVIEWER
Did you participate in the recent international PEN conference?
HARRISON
No. My feeling about that is that there's nothing I can say about those issues that someone like Doctorow can't say better. Politically I'm clumsy and full of rages. Mailer, who tends to be a very genuine creature, arranged literally the best conference ever. He even got Donald Trump to pick up the room rates so these threadbare writers were living better than usual, and then they all jumped on him. What I particularly don't understand is that ignorance—when they had Shultz come in and speak and a lot of them booed him. If the purpose of PEN is to get imprisoned foreign writers out of jail, you'd think the first thing they'd do is tend to be a little polite to those in a position to help. Instead they booed him. They did that because most of us are terribly compromised people and we pick these little items to try to maintain our integrity. They get in a snit over George Shultz, who's a pushover, right? I would want to subdue my notion of integrity and get some writers out of jail.
INTERVIEWER
I know you taught for a year at Stony Brook, and that you disliked it. You've remarked in the past about "academic" writers. Anything more to say about this?
HARRISON
That's probably an old horse that doesn't need to be beaten any more. It wasn't very profitable in the first place. Certainly there are some very good writers who perforce teach, and they're not academic writers. There's the old notion I loathe of the writer as some kind of hysterical Ichabod Crane—the oddball on campus. That's a very comfortable existence, but I don't know if it's good for you finally. Certain professors will say, I'm glad to see you're still writing poems, as if you've left the essential integrity of the teaching profession to defile yourself. I said a nasty thing in an interview once: "I'm always being lectured on integrity by professors who've spent a lifetime slobbering at the public trough."
INTERVIEWER
Early in your career as a poet you received a National Endowment for the Arts grant, and then a Guggenheim. In terms of encouragement, how important was that to you?
HARRISON
It was fine as long as it lasted but then it was absolutely grueling for years and years. I had a bit of a drinking problem, which didn't make it any better. Those kinds of problems emphasize your basic manic-depressive tendencies. You had a boom-or-bust mentality. You'd make a little money, then you'd run down and buy a bottle of whiskey and some steaks, and everybody would be happy. It's how most blacks and Indians have to live.
INTERVIEWER
As humiliating as it is to have to live that way, is there finally anything strengthening about it?
HARRISON
How are they going to kill you if you've been through all that? You tend to take everything that passes afterwards with a grain of salt. The idea of getting bad reviews is not nearly as bad as getting no reviews, frankly. And it never stopped me from writing poems and novels, it didn't slow me down a bit. That comes from too deep a source. It's something you have to do. And at any given time during those fourteen or fifteen hard, impossible years I could have taken a well-paid teaching job, because I had that cachet as a poet and a novelist, but I refused to do it.
INTERVIEWER
Did you ever get to the point where you thought you were just never going to make it?
HARRISON
Yes, I did. Wolf actually did quite well for a first novel, and A Good Day To Die did all right, but the heartbreaker for me was the absolute failure of Farmer. That was something I couldn't handle because it just slipped beneath the waters. I think Viking took out one one-inch ad for it. That was a difficult period and I couldn't maintain my sanity. I had a series of crack-ups. I was at the point where I couldn't pay my taxes, which were a feeble amount. My oldest daughter won a full scholarship but I couldn't fill out the forms because I had no IRS returns to show what I made. That was the period out of which I wrote Letters to Yesenin, which is the book I've gotten the most mail on.
INTERVIEWER
Letters to Yesenin deals with the consideration of suicide. At the end you come out against it as a valid option in your own life. Did you know right then that it was totally out of the question?
HARRISON
I knew I'd been thinking about it during that bad period in the back of my mind, but I finally couldn't entertain the thought because I'd seen it in my circumstances as an utterly selfish and stupid thing to do, and then I evolved this theory that even the next meal is worth waiting for. Also I wrote, "My three-year-old daughter's red robe hangs from the doorknob shouting stop."
INTERVIEWER
Do you think that so many artists, perhaps poets in particular, commit suicide because they've painted themselves into a corner?
HARRISON
Sure, and they don't have any resources left to get out. A metaphor isn't a free lunch, and you get the kind of metaphor that keeps you alive not that often. Sometimes you have to stay alive merely because you are alive. Of course, people commit suicide in a state of derangement where they don't realize that this is the last chance—they're not quite aware of it at the time. It seems a temporary measure.
INTERVIEWER
After you'd made that decision, "decided to stay," as you put it at the end of Letters to Yesenin, what happened then?
HARRISON
Curiously, things kept going downhill. I would get cheated on the most minor little screenplay. I'd write one for money and then they wouldn't pay me. These things kept happening. My older daughter is still angry about what we went through, and I must admit I am occasionally. But there's nothing unique about it, and all it does is make you enormously cynical. At the end of that ghastly time I met Jack Nicholson on the set of McGuane's movie, The Missouri Breaks. We got talking and he asked me if I had one of my novels with me, and I had one, I think it was Wolf. He read it and enjoyed it. He told me that if I ever got an idea for him, to call him up. Well, I never have any of those ideas. I wasn't even sure what he meant. I think he said later that I was the only one he ever told that to who never called. A year afterwards, I was out in L.A. and he called up and asked me to go to a movie. It was really pleasant, and I was impressed with his interest in every art form. It was right after Cuckoo's Nest and all these people tried to swarm all over him after the movie. Anyway, later he heard I was broke and he thought it was unseemly. So he rigged up a deal so that I could finish the book I had started, which was Legends of the Fall.
INTERVIEWER
After your initial financial success, didn't you blow a tremendous amount of money and get yourself back into trouble?
HARRISON
The first seventeen years of our marriage we averaged less than ten grand a year; so I was a babe in the woods, and the money junkies—the lawyers, brokers, accountants—can see you coming a mile away. For two years I was simply the Leon Spinks of the literary world. One morning, during the first year of success, I was reading the Detroit Free Press and I sort of got the shakes because it suddenly occurred to me that I'd gone from making ten grand to making as much money that year as the president of General Motors. Well, how are you supposed to be sane? Now that it's calmed down it's nice. I'm not making a third as much money, but at least I have a nice life. And that's what we all want, isn't it? Who wants to be crazy? I don't.
INTERVIEWER
In the last few years you've done a good deal of screenplay writing. Does it worry you that you're spending too much time at it, to the detriment of your fiction?
HARRISON
Naturally, I worry about that. But it's the only way I can make a living. I don't have any other way of getting any money. I have no other gifts except what I can pull out of my hat, my imagination. I made a very conscious choice between teaching and the film business. If I hadn't made a mess of my life, I could make a reasonably good living off my novels. I'm close to it.
INTERVIEWER
Do you enjoy writing screenplays?
HARRISON
Yes, I always have, but just lately, going from one to another, I'm getting tired of it. But nobody made me do it. McGuane and I had a talk about this. The reason that writers get submerged in the film business is simply a result of ordinary human greed. There's nothing literary about it—it's just greed. Why should I blame Warner Brothers for my own greed? Faulkner always presented himself as this martyr to Hollywood. Well, bullshit. His family evolved such a high nut that he had to keep doing it, because he was supporting seventeen people—his brother's children, retainers, aunts, uncles, an alcoholic wife—and whether old Billy wanted to go to L.A. or not they stuck that sucker on the train and shot him out there to make some more money.
INTERVIEWER
Wasn't there at one point a deal where John Huston was going to direct the screenplay you'd written of your novella "Revenge," and Jack Nicholson was going to star in it?
HARRISON
My major disappointment in Hollywood was when that deal fell apart. But now, as I get older, that sort of thing doesn't bother me so much.
INTERVIEWER
Do you still keep in touch with Nicholson?
HARRISON
Sure, we're friends. He's an extraordinary person, really literate and intensely perceptive. I don't know any novelists who are more perceptive than he is, which after all is central to his profession too—to be perceptive about character. He's always aware of how people around him are changing, just as he's changing. He never tries to locate people or make them stay in one place.
INTERVIEWER
This is perhaps another old horse that doesn't need to be beaten any more, but you've been accused of being a "macho" writer. Anything more to say about that one?
HARRISON
All I have to say about that macho thing goes back to the idea that my characters aren't from the urban dream-coasts. A man is not a foreman on a dam project because he wants to be macho. That's his job, a job he's evolved into. A man isn't a pilot for that reason either—he's fascinated by airplanes. A farmer wants to farm. But you know what it's like here and up in the Upper Peninsula. This is where I grew up. How is it macho that I like to hunt and fish? I've been doing it since I was four. I have always thought of the word macho in terms of what it means in Mexico: a particularly ugly peacockery, a conspicuous cruelty to women and animals and children, a gratuitous viciousness. You don't write—an artist doesn't create, or very rarely creates—good art in support of different causes. And critics have an enormous difficulty separating the attitudes of your characters from your attitudes as a writer. You have to explain to them: I am not all the men in my novels. How could I be? I'm little Jimmy back here on the farm with my wife and two daughters, and, at one time, three female horses, three female cats, and three female dogs, and I'm quite a nice person. So how can I be all these lunatics?
INTERVIEWER
Nevertheless, there is clearly a lot of you in many of your protagonists, and though they are very different people in many ways, with different backgrounds and professions, you can almost see them growing from one to the next. More recently, you seem to be coming off that a bit.
HARRISON
I think so. That's what I've become exhausted with. The reason I revere Faulkner is that he was such a pure storyteller, in the Conradian sense. He created a whole world, a whole reality, and any time you don't aim to do that, you're somehow involved in contemporary gossip. I don't want to piss myself away on that kind of nonsense. And it's always this hypergossip that turns out to be the most popular in any given age. Frankly, I can't imagine a nastier or more exhausting profession, because in the long run you spend your life pulling everything out of your ass. Remember Coleridge's great quote: "What webs of deceit the spider spins out of his big hanging ass." That's in Coleridge's notebooks. I love that.
INTERVIEWER
Has there been a conscious progression from the intensely personal material of your first novel to what you're trying to do now?
HARRISON
Hopefully. This time, in Dalva, the first third and last third of the book are written from the voice of a woman. Why that's been brutally hard is that you don't get to use any of your easy accumulation of male resonances.
INTERVIEWER
How do you give yourself the voice of a woman?
HARRISON
It's taken about three years of hard work and, as such, is a trade secret.
INTERVIEWER
As long as we're on the subject, who are some of the women novelists you admire?
HARRISON
I don't think of women novelists but writers. Who do I read when they have something coming out? Denise Levertov, Joan Didion, Joyce Carol Oates, Diane Wakoski, Renata Adler, Alison Lurie, Toni Morrison, Leslie Marmon Silko, Ellen Gilchrist, Anne Tyler, Adrienne Rich, Rebecca Newth, Rosellen Brown, Gretel Ehrlich, Annie Dillard, Susan Sontag. Those come immediately to mind. Also Margaret Atwood.
INTERVIEWER
You have said that you can't be a good artist unless you have a very well-developed feminine side.
HARRISON
That's largely unaccepted but absolutely true. It comes from an idea in the area of psychology. The work of a man named James Hillman, an unbelievably brillant man, has helped me to understand certain things. He asks, what have we done with our twin sister who we abandoned at birth? A man usually gives up the feminine because of our culture.
INTERVIEWER
When you're writing about something that you can't know personally, is there ever any question of cheating?
HARRISON
No, because you live through it in your imagination, and you have to trust the truth of your heart's affections and the imagination.
INTERVIEWER
You've always written your novels very quickly. Are you changing your work habits on this one?
HARRISON
Writing out of this woman's voice has been so enormously difficult. I've never had more than a three-page day with her. It makes you feel like an ineffective bulldog, you keep worrying it and worrying it and nothing has come fast at all. And you have to wait until the bread comes fresh from the oven. I don't know if she's going to talk to me today or not. It's been sort of spooky.
INTERVIEWER
Does the speed with which you usually write your novels have something to do with the poetry process?
HARRISON
Yes, because you've already thought and brooded about it a lot. I think I wrote "Legends of the Fall," the title story, in about ten days. "Revenge" in about ten days. "The Man Who Gave Up His Name" was a little slower, that was probably two weeks. It just came that fast, it all came at once, and I couldn't "not" write it down that fast. Of course, those were some real long days—some eighteen-hour days. And I've never done that before or since.
INTERVIEWER
Do you keep to a specific schedule when you're working?
HARRISON
With this woman, I've had good luck starting very early in the morning, which I've never been able to do before. My optimum hours are between two and four in the afternoon. I don't know why and it aggravates me. It's a circadian rhythm I can't avoid. And then between eleven and one at night. I always work a split shift.
INTERVIEWER
Does it require a discipline to maintain that schedule?
HARRISON
After you've been in it this long there's no such thing as discipline. You write it when it's ready to be written. And I've tried several times to start novels when they weren't there and that's tremendously discouraging and anguishing. It's dog paddling, and fraught with the stupidest kinds of anxieties.
INTERVIEWER
What do you do when you can't write?
HARRISON
I wonder, when a writer's blocked and doesn't have any resources to pull himself out of it, why doesn't he jump in his car and drive around the U.S.A.? I went last winter for seven thousand miles and it was lovely. Inexpensive, too. A lot of places—even good motels—are only twenty-five dollars in the winter, and food isn't much because there aren't any good restaurants. You pack along a bunch of stomach remedies and a bottle of whiskey.
INTERVIEWER
Is the gestation period a conscious process?
HARRISON
Much of it, although the best things seem to arrive unconsciously, somewhat in the manner that your dreams invent people you don't know.
INTERVIEWER
You said earlier that one's dream life is the foundation of art.
HARRISON
It is for everyone whether they like it or not. Or that sleeping/waking period early in the morning. Your brain has spent the night evolving a sequence of metaphors that allows you to survive the day, and sometimes it comes out in such poignant, distinctive terms.
INTERVIEWER
Hemingway spoke about stopping work when it was going well and then not thinking about it until the next day. Can you actually shut down the process at the end of the workday?
HARRISON
Not altogether successfully. You want to give it as much chance to occur as possible, but not too much. It's similar to that Faulknerian notion that if you grovel before the muse, she'll only kick you in the teeth. You have to court her, do little dances, all these things you do to keep right with her.
INTERVIEWER
Don't you also do very little rewriting?
HARRISON
That's just an artificiality. The people who do a lot of rewriting haven't thought about it for three years. Some writers work it out on paper and I work it out mentally beforehand. It's only a habit.
INTERVIEWER
I know that you allow very little, if any, editing of your work once it goes to the publisher. Why is that?
HARRISON
Because I know what I want to say. If they want to publish the novel, fine, if not, not. I've been over it four or five times, so why should I let them fool with it? They're not writers.
INTERVIEWER
I don't know many writers who don't feel that they couldn't benefit at some point from sound editorial assistance.
HARRISON
A woman at Viking, Pat Irving, did an extraordinary thing. On Farmer she suggested that chapter five should be chapter three and chapter three should be chapter five. So I switched it around and she was totally right. That's wonderful.
INTERVIEWER
Does your publisher, Seymour Lawrence, ever ask you to accept editorial advice?
HARRISON
No, he doesn't. But I might need some editing on this novel because I'm in a whole different area, and my editor who works with Sam Lawrence, Leslie Wells, is improbably alert and I would certainly listen to anything she had to say. But where this comes from, too, is the poem. Editors don't change poems.
INTERVIEWER
You've always seemed interested in form, and in experimenting with form.
HARRISON
I diagrammed the form of Wolf before I wrote it—just a picture of the form, no words. In Farmer, for example, I tell the reader how the book is going to end in the first two pages, then attempt to make the reader forget. It's similar to a Greek tale that people listen to two hundred times and still enjoy. The idea is that you make little suggestions, little parts to suggest a whole.
INTERVIEWER
Did you ever have any formal training in music?
HARRISON
No, but it was always very much of an interest. When I was in college, many of my friends were in music. That was pleasant because they taught me how to read scores, so when I was working as a farm laborer I could play Stravinsky's Petrouchka in my head. Stravinsky was a hero of mine. Now I'm planning to write an opera with the composer, Nicholas Thorne.
INTERVIEWER
Dancing frequently seems to have a place in your work.
HARRISON
When I was nineteen in New York I went to see dancing all the time. Up at Lewisohn Stadium, you could go for sixty cents and see Eric Bruhn or Eglevsky and the New York ballet company. I've always been fascinated by physical limitations. And I like it in the sense that kids dance before they're taught to. That's how the mind works. Part of it's from Yeats, who believed that the primary thing is to see life in terms of dance. To me, along with the river, the best metaphor is the dance. As Nordstrom said in "The Man Who Gave Up His Name," maybe swimming is dancing in the water. It's also a tantric motion, all those tantric Gods who are always dancing, they're always caught in a movement, no matter how ornate. They have a belt of snakes and a head of fire and seven eyes, and they're dancing. Those old myths keep coming up.
INTERVIEWER
One reviewer called Sundog "a novel teeming with ideas." How has your interest in philosophy influenced your work?
HARRISON
I think ideas are as real as trees. Sundog is actually a philosophical novel. I live around that structure although those ideas tend to emerge in my work as sort of irrational and metaphoric. What Bergson called elan vital interested me very early. You can see me as a fifteen year old reading Kant's Critique of Pure Reason, wondering why I didn't understand every bit of it. Then I went from Kant to Kierkegaard, to Bergson, to Nietzsche. Those questions started very early in my life, once I gave up temporarily on the Bible, though I still seem to write totally within a Christian framework in an odd way.
INTERVIEWER
In what way?
HARRISON
Well, I realized a couple of years ago that never has it occurred to me not to believe in God and Jesus, and all that. I never questioned it particularly. I was quite a Bible student, pored over and over it, both the Old and New Testament in the King James version.
INTERVIEWER
Do you feel that your style has evolved or changed in any particular direction?
HARRISON
Well, I'm no longer interested in anyone getting fancy for the wrong reasons. I'm not interested in showing off anymore. I think what's important in style, which of course is someone's voice finally, is that you have a firm sense of the appropriate. There's a temptation to enter into rhetorical sections because they're fun to write. That's probably a problem William Styron has, particularly as he's so good at it. It was very difficult for me in "Legends of the Fall," the title story, to subdue that impulse, because I think I'm pretty good at it too when I cut loose, and I had to consciously subdue my more grandiose impulses.
INTERVIEWER
So sometimes you have to consciously hold a style in?
HARRISON
Absolutely, because you want the style, in that book especially, to burst at the seams. One editor told me that if "Legends" was 450 pages rather than one hundred pages, I could make a fortune. But the whole reason it works is that it's only a hundred pages. Tristan isn't Tristan if he's babbling. And the grandeur is in people's minds.
INTERVIEWER
Will this new book be longer than your others?
HARRISON
This will be the first time I've written a novel that's five hundred pages.
INTERVIEWER
Was it your intention from the beginning to try a longer work?
HARRISON
No, but this was a larger idea and I couldn't do it in less. And what I did again is I over-researched it. That seems to be a nervous habit I've been involved in recently.
INTERVIEWER
Do you dislike didacticism in literature?
HARRISON
I hate it. I can't use most of what I know but I think it should be there as a resonating board. You should read enough to know what's going on throughout the world. Poets should know the history of the United States and South America. Congressmen certainly don't know any of it. That's why we're down in Central America when we have no business there. They don't even know that those countries down there think of themselves as separate entities. They keep referring to "Central America." Well, try passing that off on the Panamanians, the Costa Ricans, the El Salvadorans. It's amazing to me, for instance, how few people know anything about nineteenth-century American history. They don't know what happened to the hundred civilizations represented by the American Indian. That's shocking. I'm dealing with that in this book. To me, the Indians are our curse on the house of Atreus. They're our doom. The way we killed them is also what's killing us now. Greed. Greed. It's totally an Old Testament notion but absolutely true. Greed is killing the soul-life of the nation. You can see it all around you. It's destroying what's left of our physical beauty, it's polluting the country, it's making us more Germanic and warlike and stupid.
INTERVIEWER
Does it ever discourage you that the artist can do so little to prevent this?
HARRISON
No, he's doing all he can by writing well.
INTERVIEWER
You have said that you thought it was dangerous for an artist to embrace causes.
HARRISON
I think it's terribly dangerous. I think Mailer's "The Steps of the Pentagon" was terrific, but I don't know if it was worth what he put into it. I liked better that little novella he wrote, Why Are We In Vietnam?, which was exactly why we were in Vietnam. For my purposes, I believe what Kierkegaard said, that you have to work out your own salvation with fear and trembling before you can get on with anyone else's program.
INTERVIEWER
And yet the artistic sensibilities of many of the South American writers, for instance, are very much seasoned by the political climate.
HARRISON
There's a danger in our lush society that the artist won't be taken seriously. For people as a whole it's been a fabulous system, but it's shit on certain people and continues to do so. I asked a group recently—and they got very angry when I brought this up—to try to explain to me the difference between apartheid and the Indian reservation system as it's been maintained by the Bureau of Indian Affairs. As far as I'm concerned, there isn't any. I went around to a half-dozen reservations last year and if you think these Indians are any better off than the blacks in Soweto you're full of shit. Some people think we got their land fair and square because of the Dawes Act. Well sure, but none of those Indians had M.B.A.'s. Red Cloud had never been in a bank. Read Mari Sandoz's book on Crazy Horse. I visited the actual murder site and it was closed because of budget restrictions! I was the only one there. All the tourists were over in the calvary horse barns, which I wanted to get a bunch of Sioux to invade and torch. Can't you see them—a thousand mounted Sioux—riding out of the hills to destroy Fort Robinson? I think that's a magnificent idea. I'd be glad to join up as a nickel-plated Indian for that one. That area of our history is just ugly, ugly. I know this lawyer who worked for nine years as a volunteer at Pine Ridge. One night about three a.m.—we were drinking—he took me downstairs. Way back in the corner was a safe, and in the safe was a little pouch that belonged to this old woman. In the pouch was a stone that Crazy Horse had given to her mother, and this guy showed it to me, and he let me touch it. It was such a strange thing. You know, when the Sioux were being driven hither and yon by the Army until Crazy Horse's daughter died of pneumonia, he lay next to her on a burial platform for three days and three nights. Am I supposed to think that Ronald Reagan is as interesting as Crazy Horse, when he's not? What does it serve us to take these people seriously and not listen to what Black Elk said? And of course there's a grandeur in that area so hopelessly lost. Think of being a Sioux and knowing that. I can't imagine anything more painful than being an American Indian, and I'm dealing with some of those issues in this book. It's a mystery to me how we could be so generous in defeat to the Japs and the Germans, and yet so neglect and disregard the Indians. When so many are starving to death, the BIA was spending an average of six thousand dollars a year per Indian. Why don't we simply give them six thousand dollars a year in a monthly allowance and then they wouldn't starve? They don't raise their voice in their own defense anymore because they have for over one hundred years and nobody payed any attention. Why should they continue trying to talk? A Sioux told me that one reason they get drunk, other than that they're alcoholics, is because it's the only insulting thing they have left to do to us. Our doom as a nation will be unveiled in the way we have treated the blacks and Indians, the entire Third World. Washington is a flunked passion play.
INTERVIEWER
You've never been afraid of poking fun at yourself in fiction, have you?
HARRISON
Who wants to read about another nifty guy at loose ends? There's not a lot of self-knowledge in those novels that are published by the hundreds.
INTERVIEWER
Are there any of your own novels that you like better than others?
HARRISON
I actually never think about it. I'm always interested when reviewers compare my current work unfavorably to work that they never reviewed at all, like Farmer.
INTERVIEWER
Do literary prizes mean anything to you—say, winning a Pulitzer Prize?
HARRISON
No, not really. Any kind of prize is pleasant—especially to your mom, your wife, and kids—but I never got one. After you've written novels or books of poetry for a long time, your concerns become very different. That's just what you do, you've given your entire life over to it, and luckily it's panned out to the point that they're printing your books. So as far as reputation goes, I'm not interested in any reputation that has to be sought. If there's anything more gruesome than Republican politics, it's literary politics.
INTERVIEWER
So you don't feel any pressure at this stage in your career to write the Big Book?
HARRISON
I feel absolutely no pressure of any kind. People don't realize how irrational and decadent an act of literature is in the first place, and to feel pressure in a literary sense is hopeless. I always think of an artist in terms of his best work, which I think is what he deserves. If he can do this, if he's taken the trouble, then this is what I think of him. The before and after is always there, but so what? He wrote well and nobody should wish to take it away from him. That's what people forget about James Jones, who wrote far and away the best war novel I can imagine. Why did they flog him senseless for the rest of his life? I always felt, strangely, a real kinship with Jones, whom I never met, being from the Midwest.
INTERVIEWER
They also did it to Steinbeck, particularly posthumously.
HARRISON
I think The Grapes of Wrath is a monstrously underrated novel, and Steinbeck has been neglected. But that's okay, because he's Steinbeck and they're not. Where's their Grapes of Wrath? They didn't even write The Grapes of Goofy.
INTERVIEWER
Do you feel any sense of competition with other writers?
HARRISON
I don't know what that would be for. I can't see the art processes as being a sack race. I've thought that over as part of the idea that when people whom you love very much die, why would you get in a sack race over the novel? And I think sometimes that bitterness of competition leads people to write the wrong kind of novel, the kind of novel they wouldn't otherwise write. I think Keats is still right in that the most valuable thing for a writer to have is a negative capability.
INTERVIEWER
In what sense?
HARRISON
Just to be able to hold at bay hundreds of conflicting emotions and ideas. That's what makes good literature, whereas opinions don't, and the urge to be right is hopeless. Think of the kind of material Rilke dealt with all his life. It's stupefying. Did you read Stephen Mitchell's new translation of The Sonnets to Orpheus? You see that the depth of his art is so dissociated from what we think of as literary existence. Your best weapon is your vertigo.
INTERVIEWER
Is that a characteristic that might be somehow easier for a poet to cultivate than a novelist?
HARRISON
Why? Look at Knut Hamsun's novels, or the best of Isak Dinesen. The best of Faulkner. It had nothing to do with that fractionated, dry, cold cliquishness of any given period. As Thomas Wolfe pointed out writing about Greenwich Village in the thirties, at any given time the most highly-regarded artist in New York is very likely to be a puppeteer. That's always been true. In my formative years, when I was eighteen or nineteen, my religion was Joyce's Finnegans Wake. I wore out two copies. I was insane for that book. Now it seems to me that so much of the postmodernist movement is intensely worn out, looking to European models for emotions that Americans never get to have. For instance, I was looking at Kundera, who's not my kind of novelist but he's certainly a very good writer, and he's earned his feelings. He's been through the complete bifurcation, the destruction of his country. For someone at the Iowa Writers' Workshop to use him as a model is absurd. That's how wrung out they are when they're hoping to use a European model that has nothing whatsoever to do with any feeling they could possibly have for their own country. I remember something Yeats said, and I was going to use it as an epigraph for my novel: "What portion of the world can the artist have who has awakened from the common dream, nothing but dissipation and despair."
INTERVIEWER
You admire Márquez a great deal, don't you?
HARRISON
He's simply done things that no American novelist has shown himself capable of. Look at Chronicle of a Death Foretold—it's such a strong, juicy death, a death in primary colors. It's not a pastel death with a film of snot over it—chichi snot at that. It's right there. That's an aspect of Lorca's poetry I've always admired. I was in a snit the other day over the infantile mechanics of minimalism, the extreme posture of fatigue. Minimalism is that old cow, naturalism, rendered into the smallest of print.
INTERVIEWER
Can you name some of the younger novelists you admire?
HARRISON
David Martin, who wrote The Crying Heart Tattoo. That's a fabulous book and so is Russell Banks's Continental Drift. James Welch, John Calvin Batchelor, and Charles Baxter are also very good. I wish Barry Lopez would write novels.
INTERVIEWER
Anybody else?
HARRISON
That's all I can think of right now. There's no sense in plugging one's friends because most of them don't need it anymore, frankly. What, am I supposed to give McGuane a plug? Of course you read your friends. In terms of sheer verbal wit and brilliance, I don't see anybody in our generation of his size.
INTERVIEWER
Do you have any advice for younger writers?
HARRISON
Just start at page one and write like a son of a bitch. Be totally familiar with the entirety of the Western literary tradition, and if you have any extra time, throw in the Eastern. Because how can you write well unless you know what passes for the best in the last three or four hundred years? And don't neglect music. I suspect that music can contribute to it as much as anything else. Tend to keep distant from religious, political, and social obligations. And I would think that you shouldn't give up until it's plainly and totally impossible. Like the Dostoyevskian image—when you see the wall you're suppose to put your hands at your sides and run your head into it over and over again. And finally I would warn them that democracy doesn't apply to the arts. Such a small percentage of people get everything and all the rest get virtually nothing.
INTERVIEWER
Hemingway said something to the effect that the further along you go in writing, the more alone you become. Has that been your experience?
HARRISON
He was a marvelous writer but a bully, and bullies tend to become lonely souls. You're only as lonely as you want to be. Scott Fitzgerald said this very whiney thing: that in your forties friendship can't save you any more than love could in your thirties. That's preposterously stupid and self-serving. Many times, because of certain arguments, McGuane and I could have broken off our relationship, but we never did. We always overcame it one way or another, and have been corresponding weekly for twenty years.
INTERVIEWER
Many of your protagonists seem to be seeking escape from their lives. Joseph in Farmer laying his farm to rest. Nordstrom in "The Man Who Gave Up His Name" very deliberately disassembling his life. Lundgren in Warlock trying in his fatuous way to fill the vacuum. Is there some metaphor at work here through which the artist can then move on to something else himself?
HARRISON
I think part of that is a literary device. You don't want to catch the man on the job, you want to catch him quitting the job, because when he's on the job all he gets to do is work. You have to think of him as escaping into life rather than from it. Somebody gives you the most banal and demeaning life in the way of making a livelihood, and if you abandon that, you're escaping—well, you'd have to be a nut case not to abandon it. It's that whole notion that Strang has of meaningful work. If you're an intelligent human being and you don't have meaningful work, then you'd better find it because your death, in those spooky terms, is stalking you every day. What those characters have in common, I suspect, is that they all want more abundance—mental heat, experience, jubilance. As a young man, Henry Miller saved my neck by offering these qualities.
INTERVIEWER
And does that quest for abundance satisfy a similar need in the artist?
HARRISON
The closest I've come to a perception of it keys off that prime metaphor of Neruda's: the interminable artichoke, the unfolding, a process that never stops. What people forget is that this is not a goal-oriented operation. The Buddhists say the path itself is the way. It's a matter of not stopping your perceptions and of the courage involved in following them. It's why you have to think of Rilke as the most courageous poet, and certainly Rimbaud, potentially, in terms of the sheer daring of his consciousness. But that's an interesting question, because to tell you the truth, I've never thought about it. What you've done is created these people who fascinate you, created them perhaps because they'll try to answer some questions that you deeply need to be answered. Frankly, a writer should be a hero of consciousness.
INTERVIEWER
Is there any sense of resolution for the writer at the end of a novel?
HARRISON
I don't think you get a resolution so much as you've expanded your universe. At any point as an artist—like the universe itself—if you're not expanding, you're contracting. It's an integral part of the life process. There's no stability involved, nothing ever stops, so the biggest problem as an artist—and it's been a problem all my life—is that of vertigo; and that's probably the source of the drinking, because, being a sedative, alcohol stabilizes, though only on a temporary and somewhat destructive basis.
INTERVIEWER
Do you have any problems with depression when you complete a book?
HARRISON
No, just exhaustion. The last time, I had to go to that clinic in Mexico because I was exhausted. I'm trying to avoid it this time by approaching it more rationally, but I don't think I'll be able to. I'll probably have to go back to the clinic, or, if I can't afford it, to my cabin.
INTERVIEWER
Have you noticed your stamina decreasing as you get older?
HARRISON
Actually, it's increased over what it was ten years ago. I usually dance a half-hour a day to Mexican reggae music with fifteen-pound dumbells. I guess it's aerobic, and the weights keep your chest and arms in shape. You know that group Los Lobos? They go from ordinary rock music into this crazy border music, which I love.
INTERVIEWER
Will it be difficult for you writing this new book through the winter months, a time when you've habitually had mental problems?
HARRISON
I think it will help me beat the rap. Sundog did it for me that one year because I wrote through that period, which was a conscious attempt to fight it. Then three weeks after I finished Sundog I went to Brazil. I defy anyone to be depressed on their first trip to Brazil. It's such a gorgeously strange place, and the music element is overwhelming. They were having an anti-nuclear march when I was there, holding up their signs while they marched to samba music. It was extraordinary. I stood there on the street corner with my hair standing on end. They said to me, "Okay you fucking American, why you going to blow us all up? You going to blow us up before Carnival?" I said, "I'm sorry. I'm not doing it. I'm not even a senator." I was thinking that all the rest of the world is a victim of us and Russia.
INTERVIEWER
Let me ask a question about where your passion for food and cooking enters into your life as an artist.
HARRISON
I think it's all one piece. When you bear down that hard on one thing—on your fiction or your poetry—then you have to have something like cooking, bird hunting or fishing that offers a commensurate and restorative joy. It comes from that notion that the way you eat bespeaks your entire attitude toward life. Consequently it can become obsessive, especially this time of year when Guy and Russell are here, because they're both such good cooks. And sometimes you can temporarily exhaust it, just as you can exhaust yourself with writing because you work so hard. For instance, in the last few years I've really tried to lighten up on this whole cooking thing when I'm at my cabin.
INTERVIEWER
Does the metaphor of dance translate to play?
HARRISON
I used to have second thoughts about my sporting life until my wife pointed out to me that where I really get into trouble is when I lose my sense of play. In one of Rilke's poems, he talks about this overdeveloped sense of heaviness that an artist acquires. It's what I put under the heading of "lugubrious masochism." You walk around and you feel like you're literally so heavy that you might fall through the crust of the earth. For this reason I've always been a fan of Peter Matthiessen's, in a peculiar, spiritual sense. He and Gary Snyder are writers who seem to live outside the whole framework of literary reputation and ambition. When I've run into them they seemed to have an air of being content with what they were doing that other writers don't have. Reputation is volatile and a writer will despair if he thinks he is, at any given time, a consensus of what the media thinks he is, because if the media's not thinking about him at all then he disappears. Surely you need some encouragement as the years go by, but if you look too far outside yourself you're going to forget what the original dream was when you were nineteen.
INTERVIEWER
Can you really preserve that dream?
HARRISON
I think you can. You can preserve it by recreating the circumstances in which the dream was possible, which I can do at my cabin. If I couldn't recreate the dream, I would simply die. You asked about my eye injury; I'm sure that some of my need for isolation comes from that. I used to make a hole in the haymow of the barn to hide out in. Maybe my cabin is my haymow. I'm still writing from the haymow.
INTERVIEWER
And what is that original dream?
HARRISON
Just of being an artist—in the old sense of the word. More a painterly notion of an artist, or a poet, than what we think of as a novelist. My first passion was to be a painter, but I was without talent.
INTERVIEWER
A question of maintaining a sense of purity?
HARRISON
Yes, the integrity of the total mission. It's a "calling" in religious terms. You feel called to be an artist, and the worst thing is the refusal of the call.
INTERVIEWER
It would seem that that almost childlike integrity is constantly assaulted in an artist's life, especially in this age. How can you maintain it?
HARRISON
That's why you keep yourself apart. The reason I have my cabin is that it's easier to suffocate now in this culture than it's ever been, in terms of sheer, continuous bombardment, and you're not supposed to suffocate if you're an artist.
INTERVIEWER
Isn't there a danger of being too separate, too isolated?
HARRISON
Absolutely. What is it that Rilke said? (And it's the truest thing I remember about being an artist.) I think he said, "It's only in the rat race of the arena that the heart learns to beat."
INTERVIEWER
So it's necessary to enter into that world and then be able to get out of it unscathed?
HARRISON
Intact. It's the Zen metaphor of the ox—the ten stages of the ox—to finally have no fences and to be able to return to the city. The whole point is not to need any strictures and to still maintain balance and grace, and if you can't the danger is a life-and-death thing.
INTERVIEWER
Metaphorically as an artist, or literally?
HARRISON
Both. There are lots of ways of being killed. One of the main ways a person is killed as an artist is when he becomes mechanistic and repeats himself. Then he's dead. It's killed him as a human being and as an artist.
INTERVIEWER
Isn't that something that all artists must eventually face, as there is a limit to one's experiences and capabilities?
HARRISON
There's a limit to one's resourcefulness, but how do you know the limit? You have to push out and not do anything you've ever done before. It comes to that. The notion of change in fiction is that a train has to stay on its tracks, and animals, even more than we, are creatures of specific habits, which is why, once you learn their habits, they are quite easy to hunt. But a man can stop his car, get out; he can dive in a lake and swim across, and then climb a tree. So don't tell me you can't change your fiction. Habit is what destroys art. I've always been struck by those Cheyenne who did everything backwards when they were bored. There's a longing, a craving to know more than we get to know, sort of a Faustian notion that you want a lot of interesting things to occur before you die; and it strikes you that rather than wait around for them to occur, you're going to have to arrange most of them.
INTERVIEWER
And your new novel pursues that longing?
HARRISON
I think you design something, whether it turns out that way or not, that's very nearly impossible in terms of your own talent and then you try to do it. Here's something I wrote this summer—I was characterizing my new novel, what I wanted the mood, the feeling of it to be—"A novel written from the cushioned silence, out of the water, the first light, twilight, the night sky, the farthest point in the forest, from the bottom of a lake, the bottom of a river, Northern Lights, from clouds, the loam, also the city at midnight, Los Angeles at dawn when the ocean seems less tired having slept in private, from the undisturbed prairie, from attics and root cellars, the girl in the thicket, the boy looking the wrong direction for the moon . . ." That's all.
INTERVIEWER
Do you think that this Sports Illustrated swimsuit calendar that you have above your desk is sexist?
HARRISON
Yes and no. However, as a tree hung with apples bespeaks God's plenty, so does that model. It's an old Protestant trick.
INTERVIEWER
What is this strange mobile hanging over the desk?
HARRISON
That's a crow's wing I found. This is a toy pig my daughter gave me because I like pigs. Then someone read Letters to Yesenin for the first time this year, thirteen years later, and sent me this anti-suicide button. Here's a grizzly turd Douglas Peacock sent—that was a hard one to figure out how to hang. That's a pine cone from the forest where Lorca was executed. A Haitian baby shoe—that was found on the beach after the Haitian boat lift. A beaver pelt . . .
INTERVIEWER
Those are talismans?
HARRISON
Yeah, they are, aren't they?
INTERVIEWER
And you have these little signs up on your bulletin board. "Mortality." "The Glass Coffin." "Reality."
HARRISON
Those are just little reminders. My wife put that "Reality" sign up there when I was entering a depression. I never mentioned it, but it's her handwriting. And the glass coffin—I was dreaming that all these people were in glass coffins in a procession down the street and this brown person who looked like me but turned out to be my daughter went out and broke my glass coffin with a club and I popped out. She was bringing me awake to her difficulties and my own.
INTERVIEWER
You have a ritualistic way of going about things, don't you?
HARRISON
It's a bit embarrassing, isn't it? One night in my cabin I saw a flash of light and thought somebody was entering my driveway. I was so angry that I jumped out of bed and hit my head on the iron chandelier. I heard this horrible howling and yowling and I smashed through the back door to look for the car, but it was just a lightning storm. I was covered with sweat and my nose was distended, and I had long teeth and there was hair all over me. Obviously a little attack of lycanthropy, see? My dog wouldn't speak to me for two days. Perhaps it was all the anger finally coming out of me because I'd heard a wolf down in the delta, and three days later I saw the wolf right on my two track. Two days later, I dreamed I found the wolf on the road and her back was broken, and I hugged her and she went all the way into me, and I remember thinking humorously in the dream: God, I've been trying to lose weight all summer and now I have to carry this she-wolf around in my body. How can I ever hope to lose weight? But she didn't seem too heavy.
INTERVIEWER
In Wolf, Swanson was trying to see a wolf, and in Farmer, Joseph was trying to see a coyote. And in your own life you finally did see a wolf after many years of looking for one. What's the importance of that?
HARRISON
It's a shamanistic thing, a process that occurs in your dream life. It's very primitive because our brains are primitive in a Jungian sense. From the time I was a little boy I admired bears and wolves, and it became important for me to see one in the process of my life rather than going off and seeing one as a tourist. I know what we'll do. Grab your recorder and let's walk out here and see how many of the aspen hybrids I planted have survived . . . I'm going to get about five thousand of them and make a little woodcock covert right here, so I can have a singing woodcock in my backyard. Then I got this other idea, which is to fill up this whole pasture with planted and transplanted wildflowers, just keep planting them every year until this whole thing is a jungle of wildflowers and bushes. It's hard to think about but by the time I die, if I make it another twenty years, wouldn't it be wonderful to stand out here hidden from view in this big jungle of bushes and wildflowers? That's my idea of a nice thing.


~A.