A little more JAR for the ears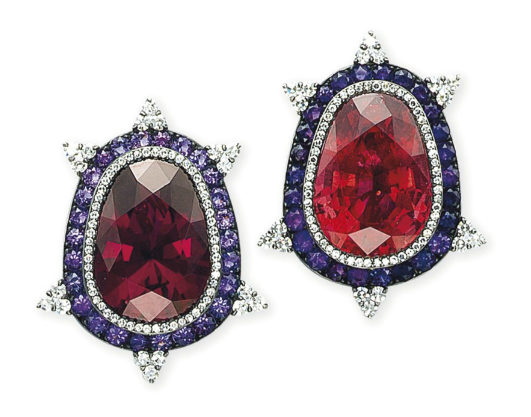 When I spotted the thumbnails of these earclips on Christie's site, the maker wasn't visible in the title but I stopped scrolling and clicked to find out. Something spelled J.A.R. Maybe it was the subtle pear shape and unlikely combination of red and purple? Maybe it was the diamond accents jutting out like a six-point star.
Or maybe I'd just seen them before.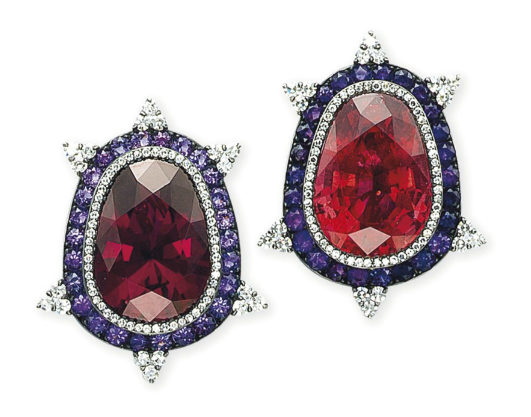 Sure enough. Looks like Lily Safra's jewels have begun to circle back to the same auction block at Christie's Geneva where they were sold four years ago. Made for Safra in 1995, these went for $223,371 in 2012 – along with 17 other JAR jewels in her collection. Two weeks from now, they're estimated to fetch as much as $300,000.
And they don't even match! Though you have to look close to notice. One has a pear-shaped 24.53ct garnet, the other a 28.95ct tourmaline. Mismatching earrings is something JAR had begun to do routinely by the time he made these – but a quarter mil plus for a pair of mismatched earclips, made primarily of garnet, tourmaline and amethyst? Only JAR jewels.
Of course, that's partly because "semi-precious" and "non-precious" are meaningless labels with stones of the quality for which the self-taught, Bronx-born Joel Arthur Rosenthal is known.
As fortunes ebb and flow, and buyer's remorse sets in, expect to see more of the 18 JAR jewels Safra unloaded for charity. We saw this after the famous sale of actress Ellen Barkin's JAR jewels, the one that inspired the auction scene in the first Sex & the City movie – in particular, that classic pair of JAR earrings with oval-cut topaz and ruby accents.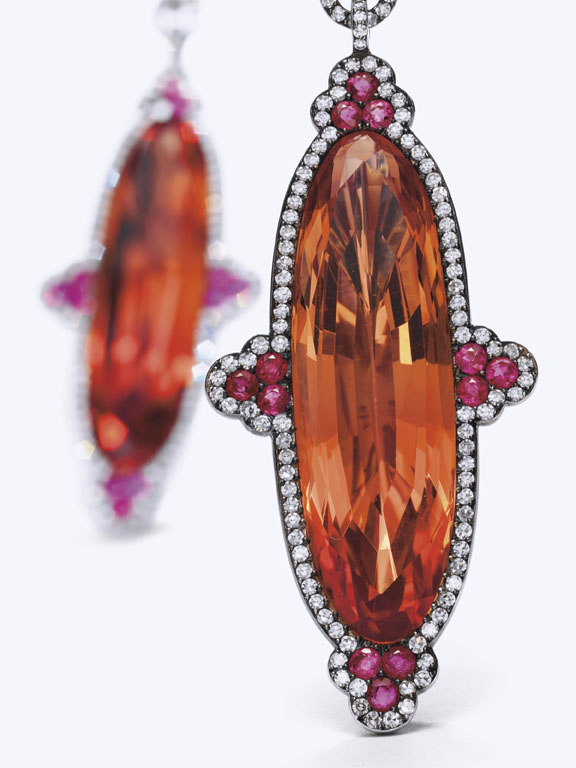 Topaz in diamond surround with ruby accents by JAR (Christie's Images)
Those got a good price the second time around – $650,500 – but not quite as good as they did at the much-hyped Barkin sale three years earlier.
Christie's ran that show, but Sotheby's had the JAR mother lode last year, including many amazing ear clips. Another pair designed around topaz, this time in the form of stylized feathers, sold in December at Sotheby's New York for $358,000.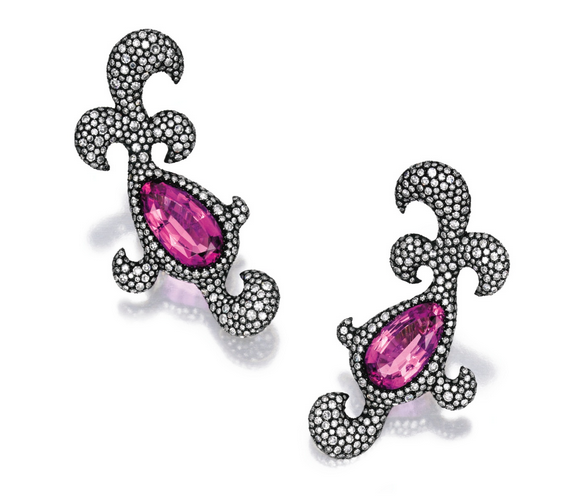 JAR earclips, 1987, with pear-shape topazes (20.99 carats) and diamonds in blackened silver/gold sold for $358,000 at Sotheby's NY in December 2015 (courtesy Sotheby's)
A month before, three more pairs of Rosenthal's ear clips sold at Sotheby's Geneva, all with classic JAR design signatures: "tweed" pavé, diamond accents, and bombé or spiral shapes.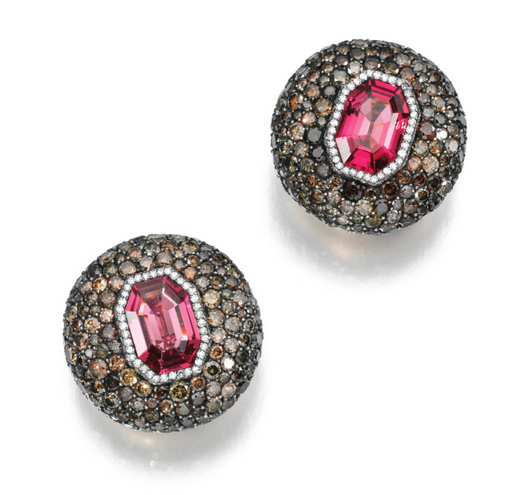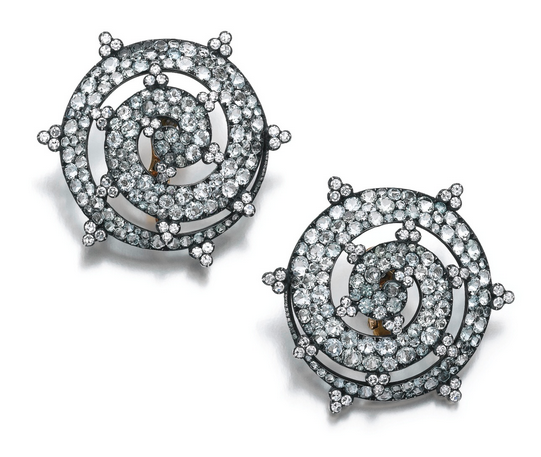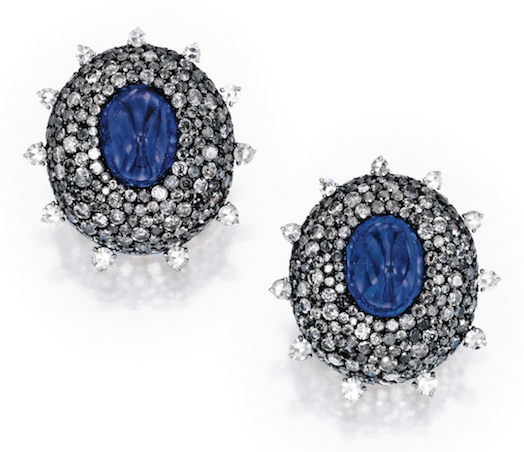 Three pairs of JAR earclips sold at Sotheby's Geneva on November 11, 2015 (photos courtesy Sotheby's)
Bombé-shaped sapphire and diamond clips got the best price at $584,000. Spirals of green beryls, green tourmalines, and diamonds sold for $274,000, and the pair with octagonal spinels and brownish diamonds went for $292,000.
On the crazier bagel end of the JAR spectrum, his "Sea Urchin" clock from 1999 sold for $75,000 (10x estimate) in the same sale. The clock was created from an actual sea urchin shell with a dial applied with sand and set with one single-cut diamond, the "interior weighted with cemented sand for placing the clock upright."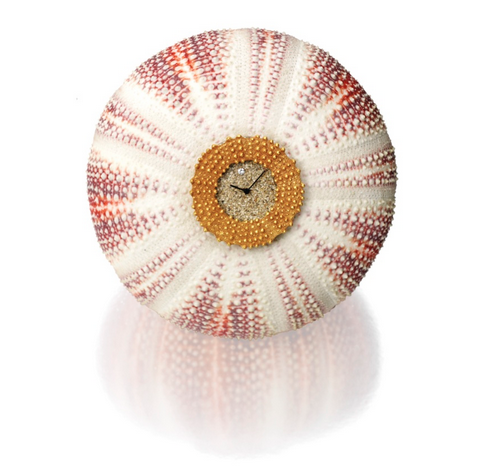 Yes, timepieces are part of the JAR oeuvre. If you recall from the Met exhibit in 2013, JAR designed a series of watches in the eighties, and used them as prototypes for a lower-end line of $600 watches he designed for sale at the museum shop, in conjunction with the show.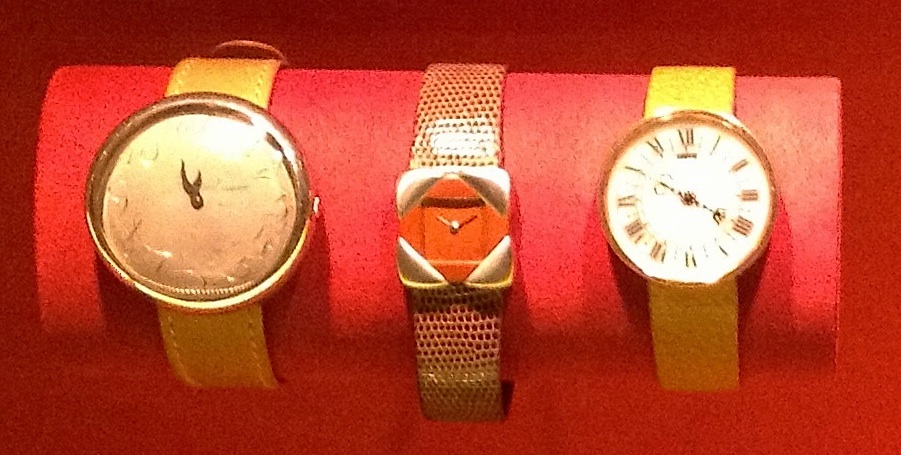 Watches by JAR: Sienna watch of marble and gold, 1987; watch of boxwood and platinum, 1980; Pebble watch of platinum, 1998 (private collections)
Also in Sotheby's December sale was a long necklace with links resembling a bicycle chain, designed to come apart to form two 16-inch and a 20-inch necklaces – unusually practical for Rosenthal – set with multi-colored sapphires and pearls. This necklace doesn't have the famous JAR pavé or blackened metal. In fact, it looks a bit Paloma Picasso to me, although the color combination and protruding accents were somewhat JAR-like.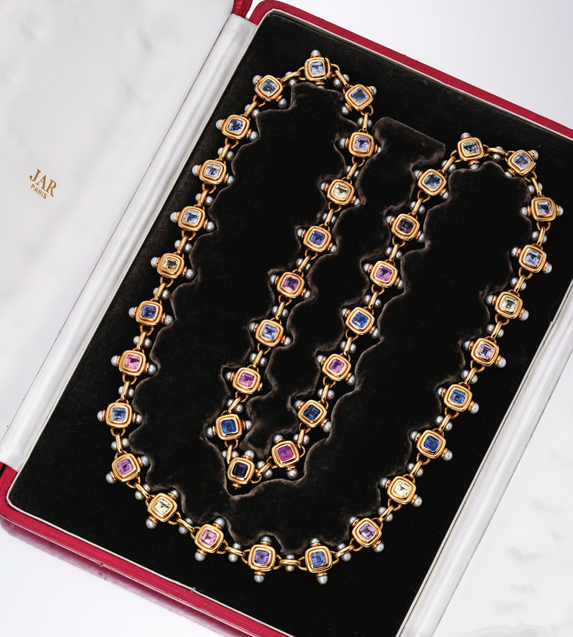 The necklace was estimated modestly, perhaps because it doesn't scream JAR, yet it sold for $193,750, more than double the high estimate.
Those earclips up for sale at Christie's this month do scream JAR. Expect a good price.
Photos courtesy Christie's and Sotheby's
Ahhhhhhhhhh........, such it is.

~A.